The World's Most Magnificent nite club Ben Maksik's. Flatbush Avenue at Avenue V Brooklyn, N.Y. Esplanade 7-4224 off Belt Parkway, exit 15.
Check out the discussion about this great club in the facebook Brooklyn Group
Judy Garland's Back in Town
Not sleet nor snow nor a flooded Belt Parkway that sent Manhattan tourists scurrying to Brooklyn gas stations for directions could dampen the enthusiasm of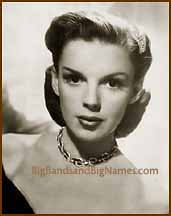 the multitude that showed up last night at Ben Maksik's Town and Country for Judy Garland's long-awaited opening. After it was over, the Cadillacs were nodding to the Volkswagens as their masters glowed in a kindred aftermath of exhilaration.
Miss Garland, whose career in recent years has fluctuated like the stock market, was completely magnificent in her Brooklyn debut. To the people who paid her the tribute of packing the huge Flatbush Ave. night club on the winter's last and meanest night, she said, "Hold fast for a big blast."
Actually, the Town and Country presented two show last night. The first offered the opening number of the Buster Burnell dancers, a stylish group of girls and fellows in exuberant choreography. They were followed by Bobby Van, a chap whose singing and dancing bid fair to put him in the Ray Bolger class ere long' and Dave Barry, a comedian who admits he was born, bred and buttered in Brooklyn. His impressions of Godfrey and Liberace are uncanny.
Stage Cleared.
The stage was cleared. The moments ticked by as the orchestra prepared for the appearance of the star. Then, as with a hit musical, they played an overture of Judy Garland songs. Suddenly, there she was, a vision in shimmering black, ready for the "big blast."
One lives with emotion in a Garland performance. The notes pulsate through her throat as if from a meadow lark as she gets her bearings with "Life Is Just a Bowl of Cherries," "You Made Me Love You," "For Me and My Gal" and a triumphant "Trolley Song."
"I'll never be the same until the sun comes out," she sings, and one feels a heart crying out for understanding.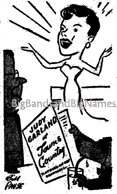 Emotion piles up as Judy sings an early Irving Berlin song, "Hows About Me." She dances, and the violins of Ned Harvey's orchestra are expressively beautiful in the accompaniment.
Ready to Bawl.
Just when everybody is about ready to bawl between enthusiastic shouts of approval, when sighs are a dime a dozen, Judy turns gay and remains that way for "I Will Come Back," and old vaudeville tune, and "When You Were a Tulip" and " I Guess I'll Have To Chance My Plans," with Bobby Van returning for a charming singing and dancing duet.
The program hits it's peak with " I'll Go My Way By Myself," as she tried to teach her heart how to sing; with "Rock-a- Bye My Baby" and with the inevitable "Over the Rainbow." A portrait of a performer, a biography of emotions was told bewitchingly in song by Judy Garland last night at Ben Maksik's Town and Country.
Jerry Lewis Stars Alone at Ben Maksiks's
Sitting on a stool, with half a spotlight as requested, Jerry Lewis last night sang "I'll Go My Way By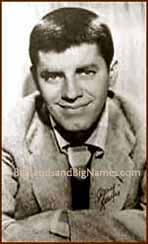 Myself" in a touching straightforward conclusion to his opening performance at Ben Maksik's beautiful Town and Country in Brooklyn.
It was the perfect answer to Hal March's quip, when asked to Jerry Lewisfollow the lead of others who had sung "Shine on Harvest Moon" into a hand microphone handed to him at ringside. "I figure you work single, work single," said Mr. March.
Indeed, that's what this star of Paramount's "Delicate Delinquent" and "Sad Sack" had been doing for about an hour. Given the keynote at the outset by Ned Harvey's crack band, the man with the shorty haircut never let up. He's Mr. Rhythm with a voice. He's Mr. Hoofetr, with a loose-jointed grace of a true showman. And he's Mr. Clown, who makes each line count for a laugh.
I must confess I haven't always been an ardent Lewis fan. I am now after this performance. Whether he's kidding the singing fads, from Spanish dancers to exponents of rock and roll, or going sentimentally rhythmic with "Shine on Your Shoes" and "Rock a Bye, My Baby," he's a single of stature.
My sides hurt as I laughed while watching Jerry's portrayal of "Tokyo's foremost singing star." With the assistance of Hal Bell as interpreter, he makes the routine the instrument of lines that break up the audience again and again.
As a pleasant entree to his dancing skill, in which he can't Dean&Meresist his humorous side, he introduces Dick Humphreys, an accomplished tap dancer. Jerry finally "catches on" and the pair provide a pleasant interlude.
And finally, Jerry recalls the Skylarks, who had sung so well earlier in the show, in some entertaining spoofing of "Danny Boy." I particularly enjoyed the Skylarks'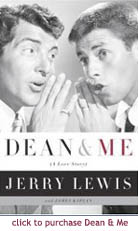 rendition of a medley of songs from "My Fair Lady."
Although seen only briefly, the Buster Burnell dancers open the show with a brisk dance, part of which takes place dramatically on a runway above and behind the orchestra. It is a bit that Mr. Maksik may use more frequently.
Although Hal March wouldn't sing "Shine on Harvest Moon," Sophie Tucker did in her grand manner. And Jerry Lewis concluded the solidly rewarding show with his wife's favorite,"Come Rain Or Come Shine.